Quick and healthy appetizer idea for parties. Scrambled egg muffins with sauteed leek, mushrooms asparagus and parmesan cheese.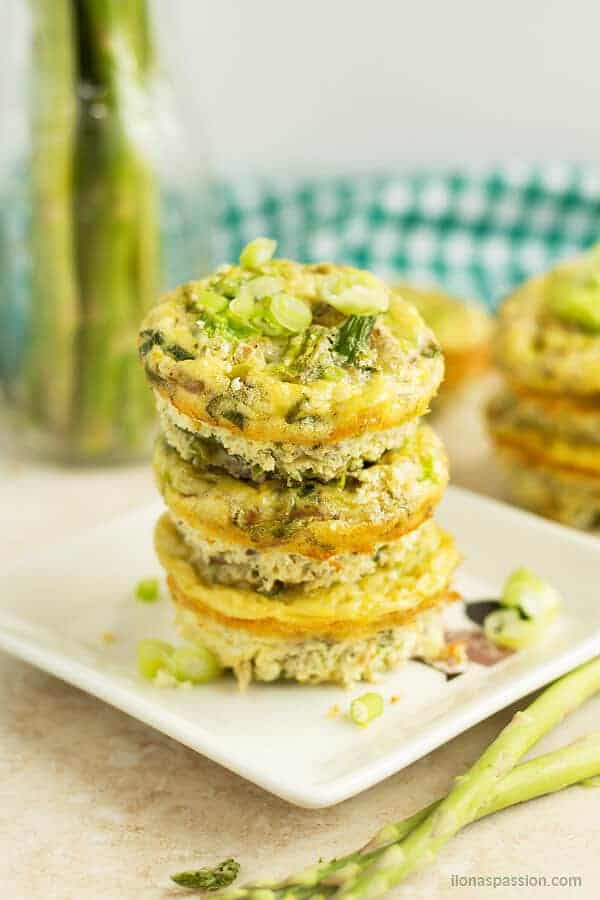 I am crazy about egg muffins lately and I make them often at my home. Enjoy these healthy cups that you can make in less than 20 minutes with products that you buy often. This recipe is great for appetizer when you have any party or brunch at home.
Before making my egg muffin cups I looked at my fridge and I've noticed lots of leek sitting in there. I thought right away that it will be great to use leek. However, first I wanted to make my leek a little softer by sauteing for 10 minutes with other veggies like asparagus and mushrooms.
Basically, what I thought will be perfect for scrambled egg muffins I just add it. If you see any ingredients in your fridge going bad use them quickly for your muffin cups. I hate wasting food so I always try to use all products that I buy.
One fact about this scrambled egg muffins is they love to STICK to the muffin pan. So my suggestion is to oil muffin pan a lot. I mean a lot… Also, paper liners or silicone liners might be used. However, still oil these liners. I actually wasted my muffin pan by not oiling enough so now I need new muffin pan. But that's ok I use it a lot in my kitchen for my baked goodies so it will be probably used often.
Anyway, scrambled egg muffins are also perfect for breakfast. You can make them ahead and enjoy them throughout the week. I bet when you make them it will not be easy to stop at only one:)
Would you like to see more? Follow me: FACEBOOK, PINTEREST, GOOGLE+, INSTAGRAM, TWITTER, or SUBSCRIBE to receive recipes and party themes in your inbox!

Pin Recipe
Facebook
Print Recipe
Scrambled Egg Muffins
Healthy scrambled egg muffins with leek, asparagus, mushrooms and parmesan cheese.
Ingredients
1

Tbsp.

oil

1

cup

leek

chopped

15

asparagus spears

cut into small pieces

4

mushrooms

large, shredded

10

eggs

1/4

cup

milk

1/3

cup

parmesan cheese

1/2

tsp.

salt
Instructions
Preheat oven to 350 F. Prepare muffin pan and oil very well or use silicone liners or paper liners. Oil liners too. You don't want muffins to stick to the pan or liners.

In a saucepan heat the oil. Add leek, asparagus and mushrooms. Sautee for 10 minutes. Mix often.

In a medium bowl whisk eggs, add milk, sauteed veggies and parmesan cheese. Season with salt and pepper.

Bake muffins for 20 minutes.
Nutrition
Calories:
92
kcal
Carbohydrates:
2
g
Protein:
6
g
Fat:
6
g
Saturated Fat:
2
g
Monounsaturated Fat:
0
g
Trans Fat:
0
g
Cholesterol:
136
mg
Sodium:
152
mg
Potassium:
0
mg
Fiber:
0
g
Sugar:
1
g
Vitamin A:
0
IU
Vitamin C:
0
mg
Calcium:
0
mg
Iron:
0
mg
If you like Scrambled Egg Muffins check…