Moist gluten free brownies made with coconut flour.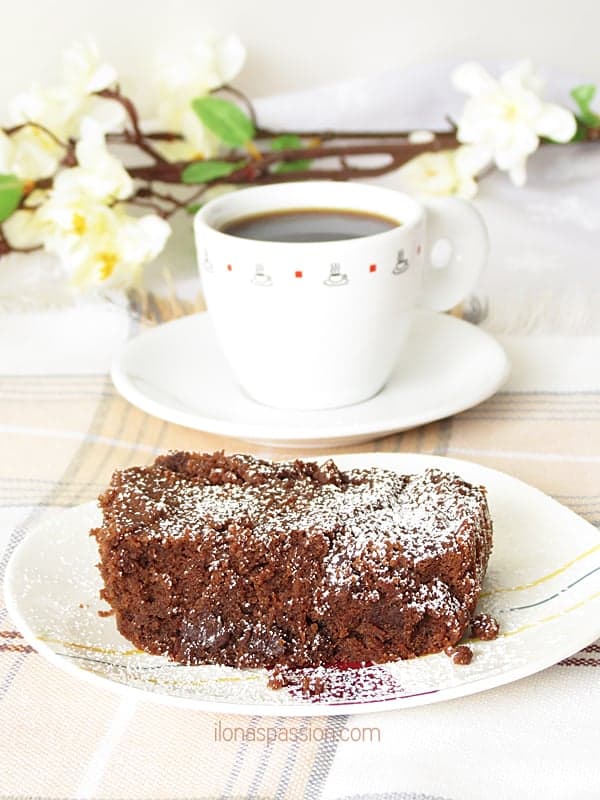 I like to experiment recently with different types of gluten free flours. I read somewhere that coconut flour is the most difficult to work with. I'm not really sure if it's true or not. Anyway I noticed that this type of flour tends to become a little dry after baking.
When I saw this recipe for coconut flour brownies I already new that these combination will be perfect. The chocolate makes the flour moist that I really like. I would definitely recommend this recipe with these yummy fudgy brownies.
Have you ever tried working with gluten free flours? I think it's nice experience to bake with them. I usually bake with oat flour
and I like my Oat Flour Plum Cookies but I wanted to try something different. I've decide to give a try with coconut flour
. We don't really have to bake gluten free at home. I just want to taste different flavors. It's nice to try new ideas and experiment a little in the kitchen.
I can honestly say that I will come back to these brownies often. They were dense and they were very chocolaty. These coconut flour brownies were very good even after few days.
I usually prefer chocolaty desserts. I'll always choose chocolate ice cream instead of vanilla. Even my older son prefers chocolate all the time.

Would you like to see more? Follow me: FACEBOOK, PINTEREST, GOOGLE+, INSTAGRAM, WANELO or SUBSCRIBE to receive recipes in your inbox!

Print Recipe
Pin Recipe
Coconut Flour Brownies
Ingredients
1/2

cup

coconut flour

1/4

tsp.

baking soda

1/3

cup

coconut oil

1/4

cup

unsalted butter

1/2

cup

chocolate chips

1

Tbsp.

cocoa powder

1/2

cup

honey

1/2

cup

coconut milk

1

tsp.

vanilla extract

2

eggs
Instructions
Preheat oven to 350 F. Prepare 8 x 8 baking pan and lay parchment paper.

In a small bowl mix coconut flour with baking soda.

In the saucepan melt butter and coconut oil. Add chocolate chips, cocoa powder and honey. Stir until everything is melted. Set aside to cool off.

In a medium bowl whisk eggs, add coconut milk and vanilla extract. Add cooled off chocolate mixture.

Add some dry ingredients into the wet ingredients. Mix and set aside for 5 minutes. Coconut flour needs to absorb some liquid.

Pour into the pan and bake for 25 minutes or until inserted toothpick will come out clean.

Cool off before cutting.
Nutrition
Monounsaturated Fat:
0
g
Potassium:
0
mg
Vitamin A:
0
IU
Vitamin C:
0
mg
Calcium:
0
mg
Iron:
0
mg
Share on Facebook
Pin Recipe
Adapted from
If you like Coconut Flour Brownies see