Cinnamon Caramel Apple Bars
Delicious crunchy cinnamon caramel apple bars.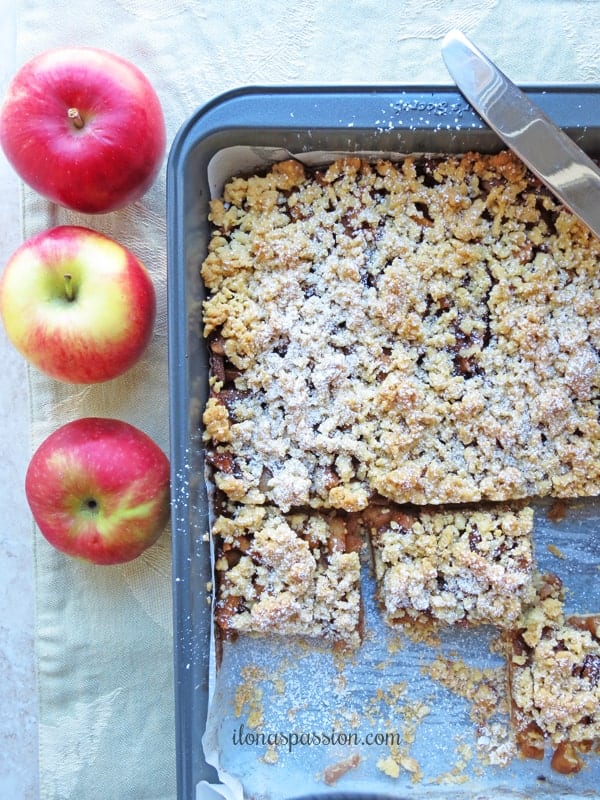 I hope you had a lovely Thanksgiving here in Canada couple days ago. It is perfect time to spend with family and friends. I'm getting used to having Thanksgiving before Halloween. The weather was very nice and sunny. While I remember gloomy and colder November Thanksgiving in US. I really cherished this time.
Especially for our Canadian Thanksgiving I made these cinnamon caramel apple bars. They were so good and everyone loved them. They are made with buttery crunchy crust and apples. Cinnamon adds addition flavor. Because cinnamon + apples are meant together. Caramel is formed right on the pan when you are cooking apples. I've made the best decision by adding brown sugar to these caramel apple bars.
If you will be looking for some November Thanksgiving recipes, make these cinnamon caramel apple bars. You'll see they will be eaten so quickly. I can also suggest these Mini Coconut Pumpkin Cheesecakes and Cinnamon Pumpkin Apple Muffins for any holidays or party gathering.
Baking with apples reminds me cold evenings and colorful leafs. The trees are so beautiful here in Ontario, very stunning view. I am still planning to go apple farm picking with my children. Are you going apple picking? How do spend your Fall?
Would you like to see more? Follow me: FACEBOOK, PINTEREST, GOOGLE+, INSTAGRAM, TWITTER, or SUBSCRIBE to receive recipes in your inbox!
*After reading reviews I just need to state this recipe is complete. It doesn't need liquid in the dough it is made without any liquid that's why the bars will be crumbly:) Thank you so much for trying my recipes!
The dough is similar to tart, I just added baking powder but otherwise work with this dough like it is a tart. I also found the best way is to knead by hand and you don't have to do it long just until you will combine a ball.
The recipe is not pour ingredients into a bowl and you will get bars. You need to work with your hands, so if you are looking for easier recipe try these Cinnamon Pumpkin Apple Muffins or these Apple Crumble Muffins.
Pin Recipe
Facebook
Print Recipe
Cinnamon Caramel Apple Bars
Ingredients
3 1/3

cup

all-purpose flour

1

tsp.

baking powder

3/4

cup

confectioner's sugar

1

egg

pinch

of salt

1

cup

unsalted butter

cold

4

Tbsp.

unsalted butter

6

large apples

peeled & diced

1

cup

brown sugar

1/2

Tbsp.

cinnamon
Instructions
In a large bowl combine flour, baking powder, confectioner's sugar, egg and a pinch of salt. Shred cold butter and combine with flour. Knead the dough by hand or in the mixer with dough hook attachment.

Make a ball, cover with foil and place in the fridge for 30 minutes.

In the meantime, in a large pan melt 4 Tbsp. butter, add apples and cook on low-medium heat for 10 minutes. When apples will be soft add brown sugar and cinnamon. Cook for another 5 minutes.

Preheat oven to 350 F. Prepare 13 x 9 baking pan with parchment paper.

Remove the dough from the fridge and cut about 3/4 dough. Leave the rest for the top.

Spread 3/4 dough on the bottom of the baking pan nicely by hand. Add apples.

In the end shred the remaining dough and spread on the top of the apples.

Bake for about 1 hour.
Nutrition
Serving:
16
g
Monounsaturated Fat:
0
g
Potassium:
0
mg
Vitamin A:
0
IU
Vitamin C:
0
mg
Calcium:
0
mg
Iron:
0
mg
If you like Cinnamon Caramel Apple Bars see