Blue Chevron Bow Tie Birthday Party
Blue chevron bow tie birthday party for boy.

I was throwing a party for my two sons couple weeks ago. My younger son was turning six and my older son had his First Communion and Confirmation. I wanted to make a party for both of them together. At first I thought about the design. I didn't know if I should go with light colors or darker visual colors. While I thought that light colors are perfect for First Communion but I didn't feel like designing light colors for six birthday.
Trucks, cars, dinosaurs were not suitable for this celebration. For birthday definitely yes, but for First Communion a big "NO". Also my older son is almost 10 years old, so cars and trucks were not a great fit. I thought that I should make something just plain or go with bow tie or tie theme.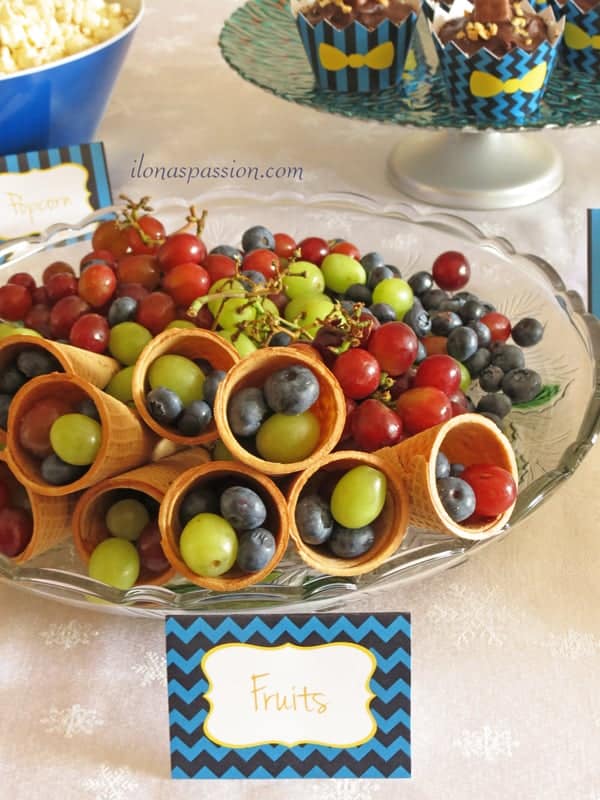 I've decided to design a blue chevron bow tie printables with just few colors: light blue, dark blue, yellow and white. Blue and yellow is a lovely combination. However, I liked the whole theme from the start. I also, thought that bow tie would be suitable for both celebrations.
I decided to stick with chevron and stripes pattern and the whole design looked very pretty.
We had a small celebration with just 14 guests and we had a very nice time. I made the whole party from scratch. Blue Chevron Bow Tie Birthday Design was made 100% by me and the food that we served was also cooked from scratch at home.
For the main dish I made barbacoa burrito bowl with corn, lettuce and rice. I love Chipotle and the barbacoa was a copycat from this restaurant. For the snack we had popcorn, chips and salsa.
I also served variety of fruits with ice cream cones. For the drink we had nicely decorated water bottles, orange juice and black currant juice.
Desserts were also homemade. And you can find recipes here on my blog. Snickers Cupcakes with Chocolate Ganache were a hit at the party and everyone loved them. Cupcakes with lots of chocolate and tiny pieces of snickers.
We also had a delicious Strawberry Banana Ice Cream Cake that I made a day before the party. We spent a really great time together and I was happy how the whole party came out.