Coconut Kale Banana Smoothie
Healthy kale smoothie with banana and a hint of coconut. "This post is on behalf of EPICUREX. All opinions are my own. I wasn't compensated for review but I received a product for free."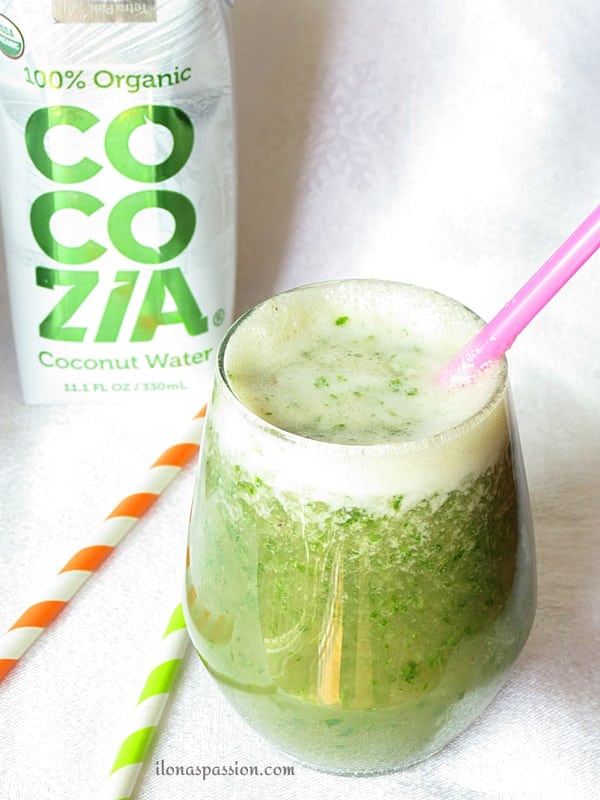 It was my first time that I bought kale. I didn't know how it tastes and what to expect. I heard many healthy facts about kale. So I just noticed kale at the other day in my healthy store and I've decided to buy it. Thinking what I'm going to do with it I came home. I wasn't sure at first. However, after browsing Pinterest I realized that you can eat raw or cooked.
It got me thinking even more and after couple of minutes I knew what I'm going to do with it. Therefore new "kale" recipes will be coming to my blog soon.
First I I decided to make kale smoothie. I thought to keep it very simple with only 3 ingredients: kale, banana and Cocozia
coconut water. Cocozia
is the product that I recently tried and I really like. Coconut water Cocozia
is mild and delicate in taste and sweeten perfectly. It is 100% organic and non GMO; that's very important for me lately. It contains potassium, magnesium and other electrolytes. I love it chilled, so I keep my coconut water refrigerated.
Cocozia
is perfect for this kale smoothie and as well as other smoothies. It adds a little sweetness. I can say that Cocozia coconut water
is very delicious, refreshing and it comes in perfect packaging. The package of each individual box is nice and sleek. It's light, not bulky and it's easily to carry with yourself to the gym, work, school etc. There are two sizes of each individual box: 11.1 oz & 16.9 oz. Cocozia
comes in two flavors: regular coconut water
and chocolate coconut water
. I'll definitely would love to try chocolate version too.
The kale smoothie is sweetened naturally with banana and Cocozia
coconut water. It doesn't taste like veggie smoothie. It's delicious and I will be making this smoothie often.
Would you like to see more? Follow me: FACEBOOK, PINTEREST, GOOGLE+, INSTAGRAM, WANELO or SUBSCRIBE to receive recipes in your inbox!

Pin Recipe
Facebook
Print Recipe
Coconut Banana Kale Smoothie
Ingredients
1 1/2

cup

11.1 oz box Cocozia coconut water

1

banana

1

cup

chopped kale
Instructions
Blend Cocozia coconut water, banana and kale in a blender. Enjoy!
Nutrition
Serving:
1
g
Monounsaturated Fat:
0
g
Potassium:
0
mg
Vitamin A:
0
IU
Vitamin C:
0
mg
Calcium:
0
mg
Iron:
0
mg
If you like Coconut Kale Smoothie see..