Silky baked eggnog cheesecake with nutmeg whipped cream and graham cracker crust. The best dessert for Christmas!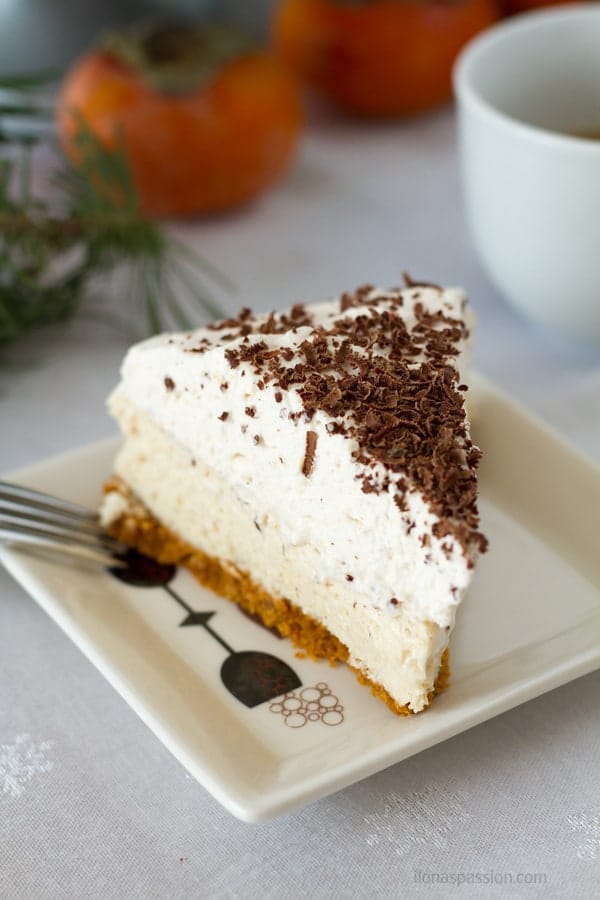 3 layers of delicious dessert with baked graham cracker crust, eggnog cheesecake and nutmeg whipped cream frosting. Therefore, the cheesecake is perfectly delicate and silky with crunchy crust.
How to make Eggnog Cheesecake
First of all, gather all ingredients: graham cracker crumbs, unsalted butter, cream cheese, eggs, cane sugar, flour, eggnog, nutmeg, cinnamon, ginger, powdered sugar and whipping cream. Second of all, make the first bottom layer by combining graham cracker crumbs with butter. Bake for 10 at 300 F. Lastly, prepare second layer by mixing cream cheese with eggs, sugar, flour and spices. Bake for 1 hour at 300 F.
How to make Whipped Cream
Mix whipping cream with powdered sugar and nutmeg using electric mixer until soft peak. Don't over mix the whipped cream. Over beaten whipped cream changes consistency to clumpy. However, I read some articles that over beaten whipped cream can be saved by adding few tablespoons of whipping cream. After that, the whipped cream has to be mixed with electric mixer until desired consistency is achieved.
Tips to make Homemade Eggnog Cheesecake
Cover your springform correctly on the bottom with aluminium foil and parchment paper. You don't want your cheesecake to leak.
Also, try your eggnog and cheesecake batter to decide how much sugar your cheesecake needs. Some eggnog brands are more sweeter then the others. 3/4 cup of cane sugar is enough but I found that 1/2 cup of sugar might be perfect too. I just hate over sweeten desserts.
Bake at 300 F, the cheesecake will be smooth. It is best to bake it slowly rather than fast.
Other Cheesecake Recipes
Would you like to see more? Follow me: FACEBOOK, PINTEREST, INSTAGRAM, TWITTER, or SUBSCRIBE to receive recipes and party themes in your inbox!

Print Recipe
Pin Recipe
Eggnog Cheesecake with Whipped Cream
Baked cheesecake with eggnog, nutmeg and graham cracker crust. Topped with whipped cream.
Ingredients
Instructions
Graham Cracker Crust
Preheat oven to 300 F. Prepare springform 10 inch. Place aluminium foil on the bottom nicely to cover the whole bottom. Put parchment paper on the bottom. See on the photo above.

In the medium bowl combine graham cracker crumbs with butter. Spread nicely on the bottom of the sprinform. Bake for 10 minutes.
Eggnog Cheesecake
In a separate bowl combine cream cheese with eggs. Mix with electric mixer until smooth. 

Add sugar and flour and mix. 

Add eggnog, nutmeg, cinnamon and ginger. Mix with electric mixer until soft peek.

Pour onto the graham cracker crust.

Bake at 300 F for 50 - 60 minutes. Remove from the oven and cool completely before topping with whipped cream.
Whipped Cream
In a medium bowl combine whipping cream, powdered sugar, nutmeg and cinnamon. Mix with electric mixer until smooth.

Top cheesecake with whipped cream. Store in the refrigerator.
Nutrition
Calories:
502
kcal
Carbohydrates:
47
g
Protein:
6
g
Fat:
32
g
Saturated Fat:
19
g
Cholesterol:
177
mg
Sodium:
169
mg
Potassium:
153
mg
Fiber:
0
g
Sugar:
32
g
Vitamin A:
1215
IU
Vitamin C:
0.8
mg
Calcium:
105
mg
Iron:
1.3
mg
Share on Facebook
Pin Recipe